Archives at the National Centre for Biological Sciences
Art – Archives Engagement
https://archives.ncbs.res.in/AE
August, Art, Archives 
Aug 1 - Aug 5, 2022
Join us for a series of events by artists, poets and theater practitioners - based on and inspired by work and material at the Archives at NCBS.
***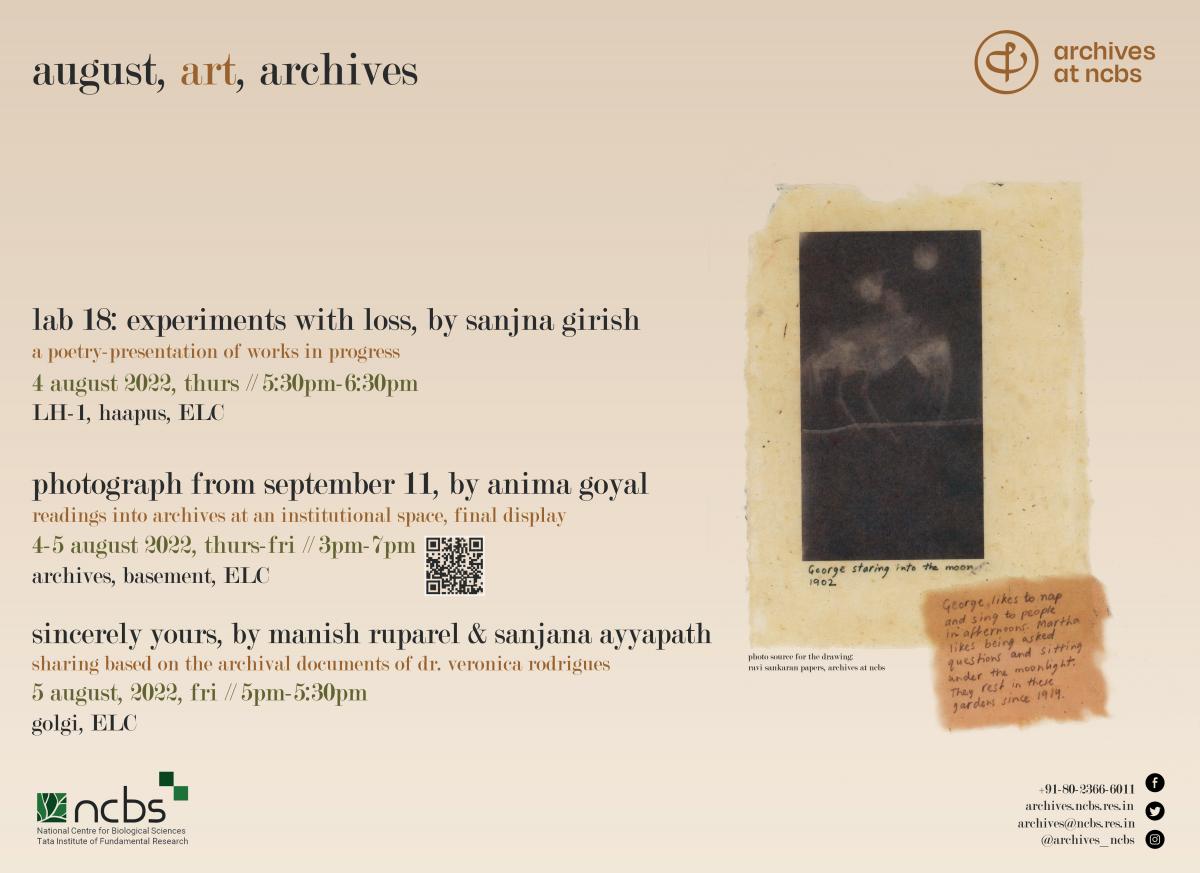 ***
Photograph from September 11 by Anima Goyal 
Aug 4-5, 2022. 3 - 7 PM IST 
Archives basement, ELC 
"Photograph from September 11" is a two-part exhibition by the current artist-in-residence at the Archives at NCBS. This project looks at how a document is formed and the acts of reading that are possible in an archive within an institution. 
From 25 July, 2022 to 3rd August, 2022, the project invited individuals to contribute to how various documents are read and interpreted. This ongoing reading room will remain open from 11am to 4pm, till 3rd August at the archives. 
The final display for this project will be held on 4th and 5th August, 2022. 
***
Lab 18: Experiments with Loss  by Sanjna Girish Yechareddy 
Aug 4, 2022. 5:30 PM 
Hybrid: LH-1 (Haapus) & on Zoom 
A presentation of poems-in-progress grappling with loss and memory, drawing from a year's archiving practice at the Archives at NCBS. 
Please join in-person, if possible. To join online, please use the following link:
https://us06web.zoom.us/j/82516691136?pwd=bVVOU3pSaGw5WmRTMHpmb0FQZlFOZz09
Meeting ID: 825 1669 1136
Passcode: xJchJ5
***

Yours, Sincerely by Manish Ruparel and Sanjana Ayyapath
Aug 5, 2002. 5 PM 
Golgi Meeting Room, ELC 
"Sincerely Yours" is a sharing by two young practitioners, based on the archival documents of Dr. Veronica Rodrigues. What happens when decades old letters are publicly performed in a different context? How do the biases of the artists change our perspective on these archives? Where are the cracks in the archive? Are they wide enough for new light to enter? The project explores these questions using letters, photographs and documents through  the idiom of documentary theater. The project has received dramaturgical inputs from Anuja Ghosalkar and animation inputs from Jason Raj. 
***
Bio
Anima Goyal is an artist based at the border of Haryana and Punjab. She studied painting for a few years and is about to start her masters in Fine Art at Städelschule. Her practice is rooted in domestic spaces, translation, and the experience of a language as a space of inhabiting. She had been working with the format of bookmaking for the past year and a half, which has turned into an interest in the very act of reading and its relationship with image. Material histories also form a critical part of her process where the papers or fabrics used tend to be connected to chance encounters with an object, as those encounters make conversations possible.
Sanjna Girish Yechareddy is a researcher, archivist and poet. She is currently an archivist at the Archives at the National Center for Biological Sciences, Bangalore. Her focus lies in exploring questions of memory, violence and loss through the intersections of archiving, anthropology and poetry. 
Manish Ruparel is an interdisciplinary artist. He graduated with a degree in Film & Television and worked as an assistant director for two years, notably on the Disney+ Hotstar show OK Computer. He is currently pursuing his masters in Devised Theatre and Embodied Dramaturgy at arthuas.berlin. His work often revolves around science, morality, truth, loss and abandonment using the mediums of film, live theatre and performance. He is always exploring how different forms can be used to tell a story better and this time, he takes a deep dive into the idiom of Documentary Theatre, locating himself as an artist within the diverse world of the archives.
Sanjana Ayyapath is a multidisciplinary artist. She is currently studying in Srishti Institute of design. She is in her third year, pursuing a degree in visual communication and strategic branding. She is trying to apply her understanding of visuals in a new medium. The body. She is using the human body along with materials from the archive to create a narrative in the form of documentary theatre.