About the Archives
The Archives at the National Centre for Biological Sciences (NCBS) is a public collecting centre for the history of science in contemporary India. The Archives is free and open to the public. It is located in a 2000 square feet space in the Eastern Lab Complex (ELC) basement in NCBS, a space that was formerly occupied by Obaid Siddiqi, the co-founder of NCBS, and his laboratory. It includes space for research, processing, exhibitions, recording, and a leading-edge storage facility with monitors for temperature, light, humidity, air quality, water, fire, pests, and noise. The publicly accessible catalogue of 150,000 objects spans 25 collections and in various forms, ranging from paper-based manuscripts to negatives to photographs, books, fine art, audio recordings, scientific equipment, letters, and field and lab notes. The reading rooms are open to the public and researchers without prior appointment. However, you may need an appointment to review the archival holdings. For queries, please visit https://archives.ncbs.res.in/contact
Resources
Resource forms and access policies in the Archives

Access and Use

Researcher Application

Deed of Gift

Agreement Form: Oral Histories

Records Transfer Form

Purchase Rights Form

Loan Agreement Form

Material Use Form

De-accessioning Form
Team
Various technical teams from across NCBS – civil, architecture, electrical, IT, instrumentation, hospitality – helped conceptualize and build the physical structure of the Archives at NCBS. The archiving team (see list below) has been a crew of over 60 students and professionals working in short stints between 2016 and 2022: archivists and historians, journalists and writers, scientists and administrators and librarians, students of sociology, engineering, history, photography, the sciences, marketing, education, and architecture and design. The Archives is governed by a guiding Archives Policy, an internal Archives Review Committee and an external advisory board. The Archives has had generous assistance from the archivists and conservators at various centres in Bangalore, across India and around the world.
2022 team: Abhijith AV, Anjali R, Anima Goyal, Deepika S, Hari Sridhar, Malavika Anilkumar, Meera K, Niranjana K, Ojas Kadu, Preeti Venkatram, Ravi K Boyapati, Samira Agnihotri, Sanjna G Yechareddy, Sindhu Nagaraj, Soumya Swain, Swathi S, Venkat Srinivasan
Archives Review Committee, 2022-23 (Internal): 
Anjana Badrinarayanan
Jayashree Ratnam
Ranjith P.P.
Satyajit Mayor
Uma Ramakrishnan
Upinder S. Bhalla
Venkat Srinivasan
Archives Review Committee, 2022-23 (External): 
Anne-Flore Laloe, European Organisation for the Exploitation of Meteorological Satellites (EUMETSAT)
Aparajith Ramnath, Ahmedabad University
Indira Chowdhury, Centre for Public History
Mariella Soprano, Caltech Archives (Chair of Committee)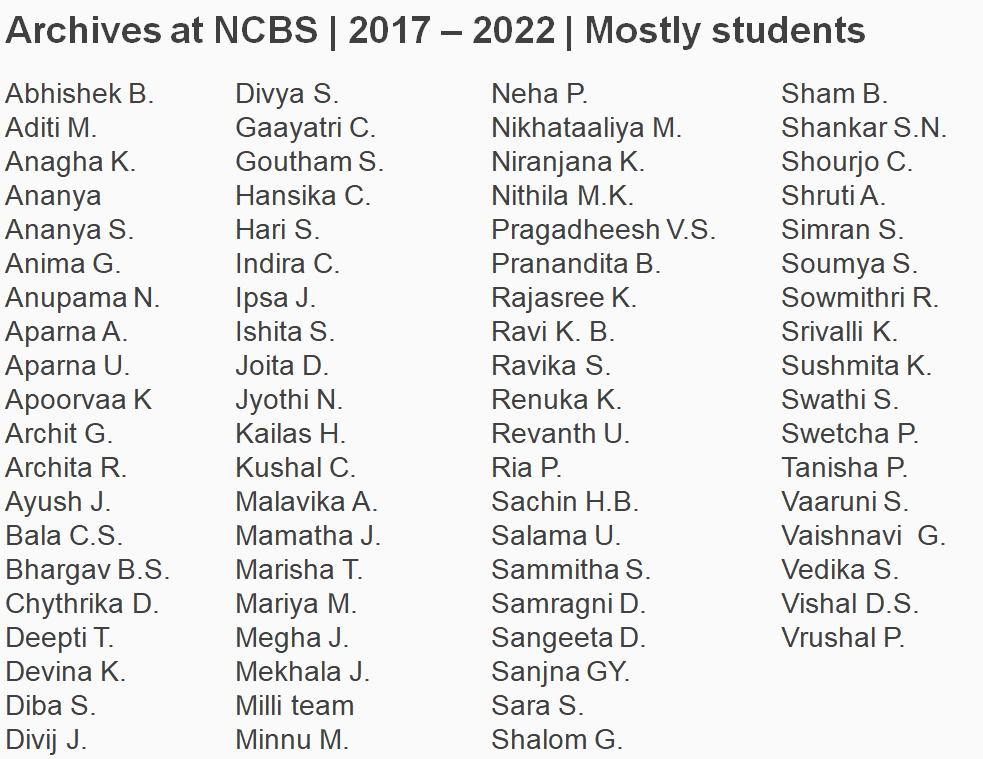 (Some!) Team Images: 2016-2019

Our Mission
The Archives at NCBS (
https://archives.ncbs.res.in/
) is a public centre for the history of science in contemporary India. Over 150,000 processed objects across 24 collections are in various forms, ranging from paper-based manuscripts to negatives to photographs, books, fine art, audio recordings, scientific equipment, letters, and field and lab notes. The Archives has one underlying philosophy—of enabling diverse stories—and operates on four broad verticals.
Read More
Our Vision
Archives enable diverse stories. This statement serves as a guiding principle for us through the workflow of historical records – sourcing for material, archival judgment and accessioning policies, understanding context and arrangement, preservation/conservation, and physical and digital access. In late 2016, when we started the endeavour to build a new archive, we wanted to deliberate on the purpose of an archive and what environments it could nourish in the future.
Read More
Collaborations
The Archives at NCBS is working in partnership with a variety of organizations across India and the world. These collaborations include efforts to standardize archival description, build shared digital catalogues, and develop narratives from archival material.
Picture credit: Ravi Kumar Boyapati
Funding
The Archives is based at the National Centre for Biological Sciences. NCBS is a centre of the Tata Institute of Fundamental Research, autonomous under the Department of Atomic Energy, Government of India. The Archives has been made possible from a mix of government funding and external grants. It is currently supported through generous donation from TNQ Technologies, and has also formalized the creation of a Chair in the History and Culture of Science through this grant.
Contribute to The Archives