Archives at NCBS
Call for Positions -- Archivists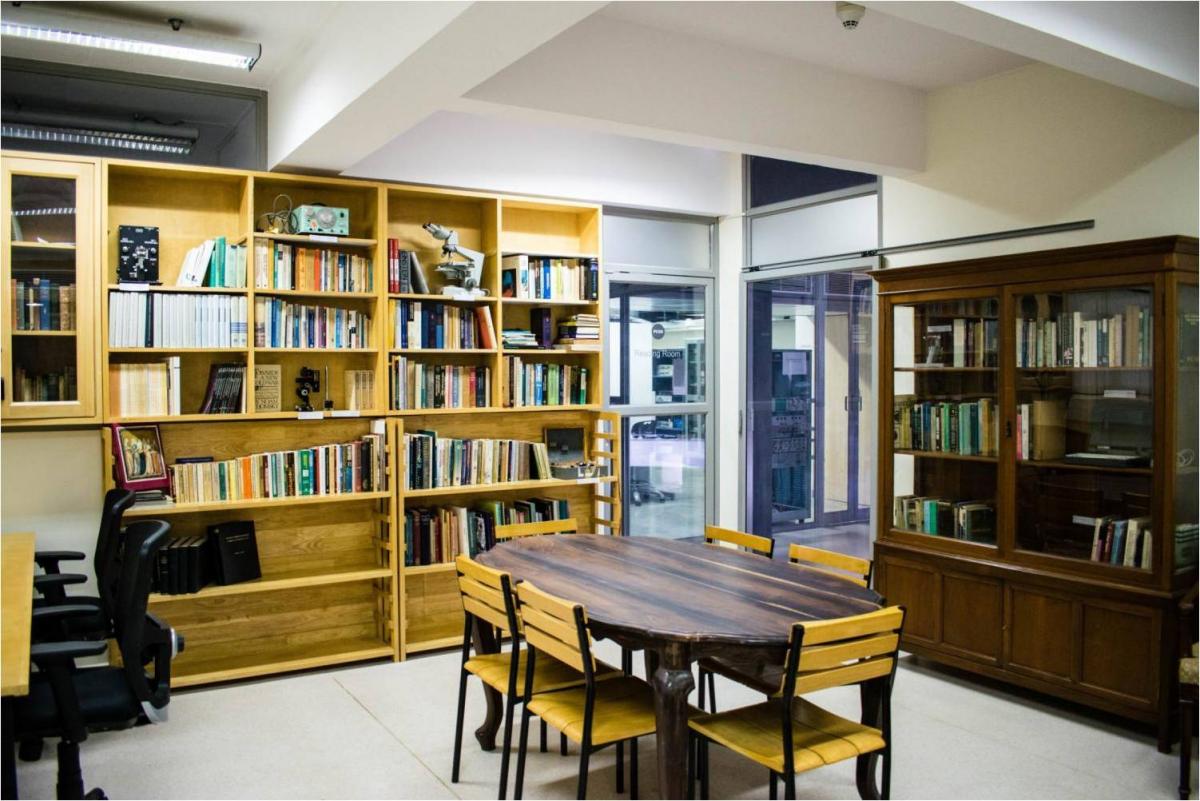 Photo Credit: Ravi KB
Archives Description
The Archives at NCBS is a public space for the history of science in contemporary India (https://archives.ncbs.res.in/). It opened to the public in February 2019 with 18 collections, with a variety of primary research material – administrative records, annotated manuscripts, maps, architectural drawings, lab notes, photographs, negatives, slides, oral histories and other electronic audio/visual material. In 2022, the Archives at NCBS (https://archives.ncbs.res.in/) has strengthened its intention to be a collecting centre for the history of science in  contemporary India. The website already has the catalog for 50,000 archival objects. By the end of this year, we will have on our website the full catalog for all 150,000 objects, ranging from manuscripts and correspondence to photographs to scientific equipment, from across 25 collections. In addition to the collections visible on the website, we hold other valuable material like the papers of TSG Sastry, a physicist who worked on the Thumba rocket programme, Leslie Coleman, an early 20th century agricultural scientist in Mysore state, and the agricultural scientist and institution builder, MS Swaminathan. We are fortunately able to receive, process, preserve and digitize archival material, and this should be a stable resource for generations ahead. We are also leading efforts in developing legal and ethical standards, and digital annotation tools for archival material. A full range of activities undertaken by the archives is on Page 129/130 of the annual report, https://www.ncbs.res.in/annual-report. Work at the archives is along four broad objectives: strengthening research collections and access in domain areas, pushing the frontiers of research in archival sciences, building capacity and public awareness through education, training and programming, and reimagining the archives as part of the commons. We're also a founding member of Milli (https://milli.link/), a broader collective of individuals and communities interested in the nurturing of archives, and for the public to find, describe and share archival material and stories. 
Open Positions: Archivist. Archives at NCBS (This is an open call for positions at various experience levels)
Duration: 6 months, 1 year (both extendable to multiple years, depending on specific position and mutual interest)
Job Description: The candidate might hold a post-graduate degree preferably in archival methods or history from an internationally recognized institution. And/OR they will have at least 2-5 (or more or less!) years of work experience in key archival roles at nationally recognized archives/consultancies. Through their work experience, they are expected to have demonstrated knowledge of accessioning, appraisal and archival arrangement methods, in addition to work on oral history collections. They might have some experience in public engagement with archives, and a track record of designing and delivering successful public events/projects. They will possess excellent communication and organizational skills. They are expected to be adept at the following roles. But we completely understand an applicant might not check all these boxes. So, you know what, just read on, check out the questionnaire. And apply if you think you are a good fit, or have better ideas on what this centre should be doing. 
•    Expanding accessions at the Archives at NCBS to reflect its objectives as a public collecting centre for the history of science in contemporary India. Manage the end-to-end archival process, from sourcing, appraising and accessioning, to arrangement, preservation and access.
•    Applying archival standards for arrangement, description, conservation and preservation: Integrating global archival standards into the framework of the Archives at NCBS, both in the physical collections and their digital reproductions. 
•    Developing and applying transparent standards of access.
•    Supervision and coordination, both of archival accessions from across India, and of 1-2 staff members and interns.
•    Manage and conduct oral history interviews as part of the process of collecting tangible archival material. 
•    Proficiency with all things digital, and/or willingness to pick skills up. Manage and operate open source archival catalog management systems like ArchivesSpace and AtoM and digital preservation management systems like Archivematica. Work in coordination with a software architect in the team at the Archives at NCBS. 
•    Public engagement activities of Archives at NCBS: As part of team at NCBS, coordinate public lecture series, exhibition space, visitor tours, seminars and workshops. Coordinate (and operate/delegate) social media and email communication from the Archives at NCBS.
•    Demonstrated ability and willingness to present research work to peers and the public.
Application Process:
(a) All interested applicants should apply through this online questionnaire: https://bit.ly/archives-ncbs-questionnaire
(b) Those selected from this questionnaire will be asked to make time for a 45-minute interview slot (in person or Zoom).
(c) Final short-listed candidates will be required to provide names of two relevant referees who will be contacted as a final step in the process.
Compensation: 
Negotiable. Commensurate with experience and skills. We aim to be competitive.
Deadlines:
Rolling (This announcement was first made on Sep 10 2022. First review after Sep 18 2022, 11:59PM IST. And then every week thereafter. The website will be updated when the positions are filled).
Contact Information: https://archives.ncbs.res.in/contact