Archives at NCBS
BangaloREsidency Presentation
https://archives.ncbs.res.in/202212_LK
Dust and Debris in the Archives
Line Krom
Artist in Residence, Archives at NCBS
Herb Garden Amphitheatre, Archives at NCBS, ELC, NCBS
Sat, Dec 17, 2022. 11:00 AM
Followed by refreshments after the event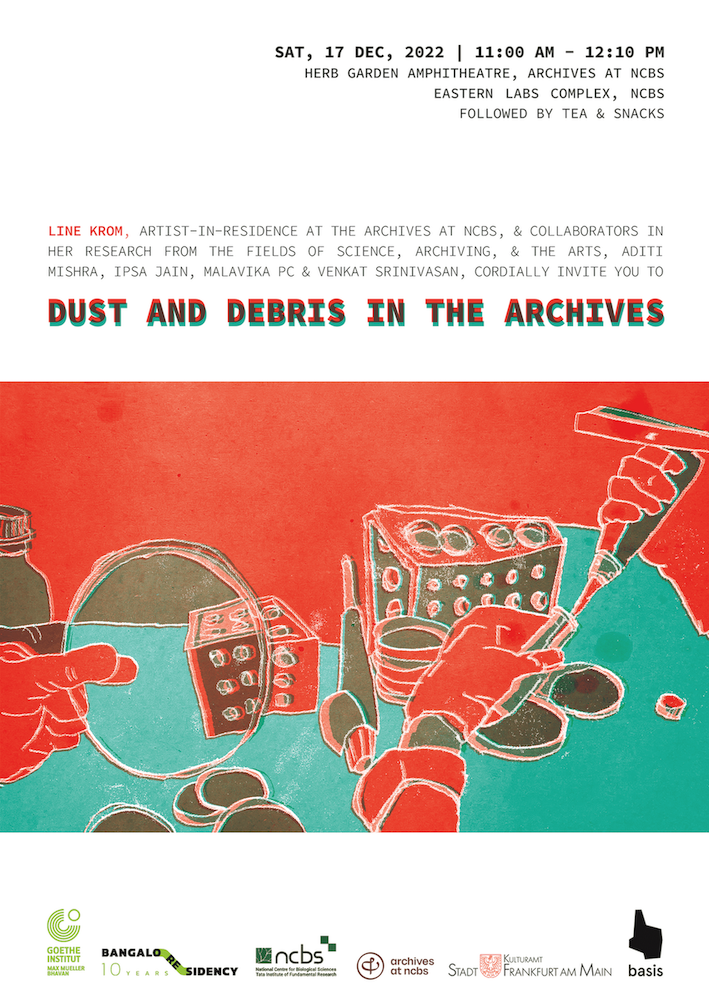 About the event and artist: 
Line Krom, Artist-in-Residence at the Archives at NCBS, and collaborators in her research from the fields of science, archiving, and the arts, cordially invite you to a kaleidoscopic conversation on how to look at dust in meaningful ways.
Line Krom is an artist who stirs up dust. For two months, she has been an artist-in-residence at the Archives at NCBS. During this time, dust, debris, and other discarded objects from the Archives have been her obsession. She has been shining a light on the various literal and semantic meanings of dust. 
Line has been working with dust for 10 years now, but her time at NCBS has poised her at the beginning of a new vista of understanding. Her journey led her to new intersections between the arts, archives, and sciences, as her path crossed with experts from these fields. 
Her discoveries so far have been pieced together into a work journal. The journal is not a culmination of her research, but an archival object, collecting the various experiences, experiments, results, and thoughts she has come across. Its purpose is not to tell her story, but to allow the creation of one, so that the journey of today may one day culminate in a woven narrative. The work journal, an artist book, will be unveiled before the public on this day. Together with her collaborators, Aditi Mishra, Ipsa Jain, Malavika PC, and Venkat Srinivasan, Line will give a brief reflection on her research. 
This event is part of the BangaloREsidency programme, a long-term collaboration between the Goethe-Institut Bangalore and various cultural spaces and partners in Bangalore, with a view to offering German aspirants a space conducive to creative output and the opportunity to interact with Indian collaborators. 
More on the BangaloREsidency programme: https://www.goethe.de/ins/in/en/sta/ban/ueb/bar.html
More on Line's work: https://www.linekrom.com/