Letter from Obaid Siddiqi to K. Krishnamurthy, Vice Chancellor of UAS regarding the lease agreement between UAS and TIFR
Format
Typewritten on paper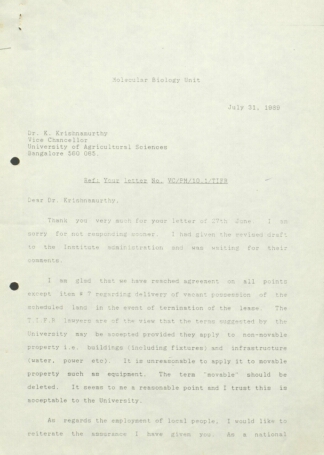 Obaid Siddiqi writes to the Vice Chancellor of UAS about certain points in the lease agreement for the NCBS land. He assures Krishnamurthy that while TIFR, being a national institute, is open to hiring all citizens of India, they will keep in mind the employment of local people as well.
Download
Citation:
Letter from Obaid Siddiqi to K. Krishnamurthy, Vice Chancellor of UAS regarding the lease agreement between UAS and TIFR, MS-002_1_1_1_2_0039-0040, Archives at NCBS
Rights : Digital material from the Archives at NCBS are made available online for non-commercial research purposes. Permission for reproduction or distribution must be obtained in writing from the Archives at NCBS (archives@ncbs.res.in). The Archives at NCBS makes no representation that it is the copyright owner in all of its collections. The user must obtain all necessary rights and clearances before use of material.