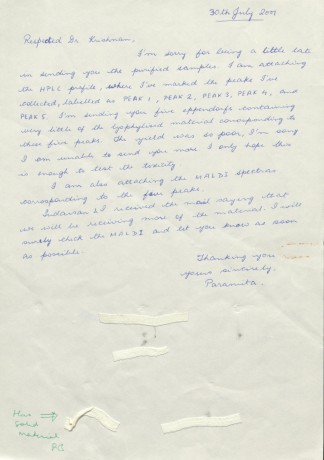 Pertains to sending samples of toxins of various species of Conus for testing potency in lab. Attached also were the HPLC spectra to showcase what peaks the samples correspond to and their MALDI results.
Download
Citation:
Letter from Paramita, MS-003_1_3_3_3_P_0062, Archives at NCBS
Rights : Digital material from the Archives at NCBS are made available online for non-commercial research purposes. Permission for reproduction or distribution must be obtained in writing from the Archives at NCBS (archives@ncbs.res.in). The Archives at NCBS makes no representation that it is the copyright owner in all of its collections. The user must obtain all necessary rights and clearances before use of material.