Project proposal - Deep sequencing of venom duct cDNAs from Indian Cone Snails (KSK copy)
Author
Krishnan, K. S.; Balaram, P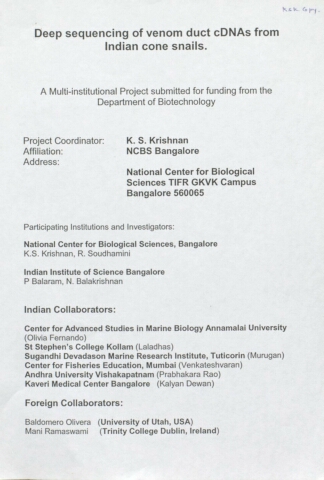 Proposal to DBT for sequencing of cDNAs from the venom ducts of Indian Conus sp to support the ongoing vigorous research on conotoxins, testing the new sequencing facilities and technology and establishing a framework for research on non-model organisms for potential commercial and therapeutic interests. Deep sequencing the cone snail venom ducts was pitched to identify genes of active peptides of therapeutic and industrial interest.
Download
Citation:
Project proposal - Deep sequencing of venom duct cDNAs from Indian Cone Snails (KSK copy), MS-003_2_2_8_5_0002-0022, Archives at NCBS
Rights : Digital material from the Archives at NCBS are made available online for non-commercial research purposes. Permission for reproduction or distribution must be obtained in writing from the Archives at NCBS (archives@ncbs.res.in). The Archives at NCBS makes no representation that it is the copyright owner in all of its collections. The user must obtain all necessary rights and clearances before use of material.