Letter from B. M. Olivera regarding potentially being a foreign collaborator on the Conus deep sequencing project
Location
Utah, United States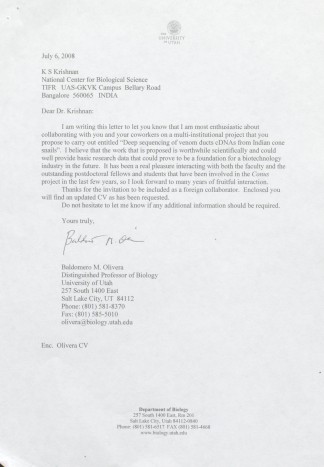 Letter from B.M. Olivera expressing his enthusiasm to be a foreign collaborator on the deep sequencing project of venom ducts from Indian cone snails being led by K.S. Krishnan and others.
Download
Citation:
Letter from B. M. Olivera regarding potentially being a foreign collaborator on the Conus deep sequencing project, MS-003_2_2_8_5_P_0091, Archives at NCBS
Rights : Digital material from the Archives at NCBS are made available online for non-commercial research purposes. Permission for reproduction or distribution must be obtained in writing from the Archives at NCBS (archives@ncbs.res.in). The Archives at NCBS makes no representation that it is the copyright owner in all of its collections. The user must obtain all necessary rights and clearances before use of material.