Evaluation of toxin producing snails - Conus sp at select locations along the East Coast of India
Author
Y Prabhakara Rao, C. Kalavati, A. V. Raman
Location
Vishakhapatnam, India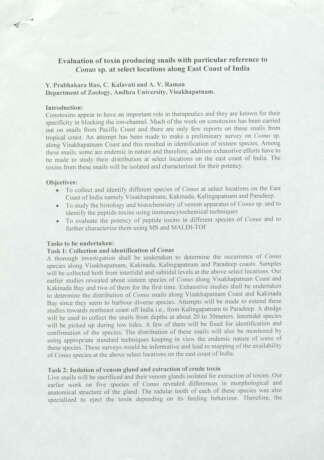 Details of collection and identification of the Conus snails from the east coast of India, process of extraction of venom gland and crude toxin, the analysis and characterization of toxins and the financial requirements to carry out the collections and experiments have been elaborated on.
Download
Citation:
Evaluation of toxin producing snails - Conus sp at select locations along the East Coast of India, MS-003_2_2_8_6_0117-0118, Archives at NCBS
Rights : Digital material from the Archives at NCBS are made available online for non-commercial research purposes. Permission for reproduction or distribution must be obtained in writing from the Archives at NCBS (archives@ncbs.res.in). The Archives at NCBS makes no representation that it is the copyright owner in all of its collections. The user must obtain all necessary rights and clearances before use of material.