Views of George John on NIMB
Subject
National Institute for Marine Biotechnology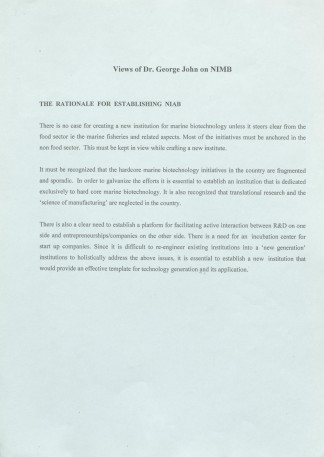 Discusses the rationale for establishing NIMB - an institute which steers clear of the food sector and instead focuses on marine biotechnology and translational research and to help bring industrial collaboration to marine biology research.
Download
Citation:
Views of George John on NIMB, MS-003_2_6_11_2_P_0015, Archives at NCBS
Rights : Digital material from the Archives at NCBS are made available online for non-commercial research purposes. Permission for reproduction or distribution must be obtained in writing from the Archives at NCBS (archives@ncbs.res.in). The Archives at NCBS makes no representation that it is the copyright owner in all of its collections. The user must obtain all necessary rights and clearances before use of material.