Notes on Paul Kammerer
Format
Computer print with Image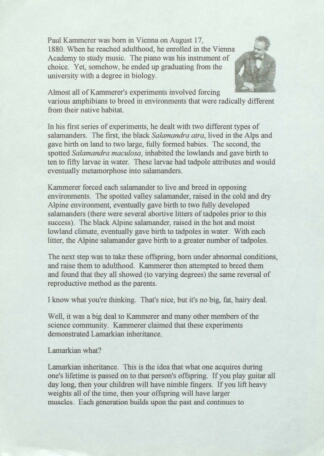 Recounts the story of Paul Kammerer and his claim on Lamarckian Inheritance in salamanders bred in different conditions as a case study.
Download
Citation:
Notes on Paul Kammerer, MS-003_3_3_12_4_0034-0037, Archives at NCBS
Rights : Digital material from the Archives at NCBS are made available online for non-commercial research purposes. Permission for reproduction or distribution must be obtained in writing from the Archives at NCBS (archives@ncbs.res.in). The Archives at NCBS makes no representation that it is the copyright owner in all of its collections. The user must obtain all necessary rights and clearances before use of material.