Fostering Research in Indian Universities
Subject
Excellence in academia
Format
Computer print with Image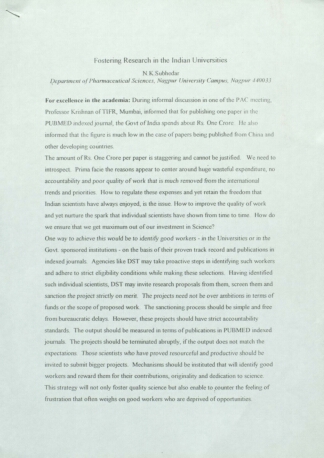 Summarises Krishnan's comment on how research in India was being conducted in an irresponsible manner due to lack of accountability and recognition of true talent. Also talks about promoting Academia-Industry interaction through projects led pro-actively by universities.
Download
Citation:
Fostering Research in Indian Universities, MS-003_3_4_12_5_0005-0006, Archives at NCBS
Rights : Digital material from the Archives at NCBS are made available online for non-commercial research purposes. Permission for reproduction or distribution must be obtained in writing from the Archives at NCBS (archives@ncbs.res.in). The Archives at NCBS makes no representation that it is the copyright owner in all of its collections. The user must obtain all necessary rights and clearances before use of material.