Grievance letter on administrative process impeding scientific pursuit
Format
Computer print with Image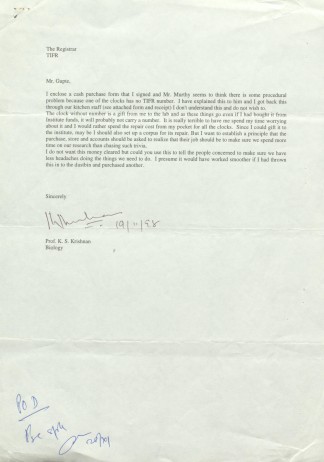 Describes problems during processing a bill for the repair of an 'un-numbered' clock leading to waste of time and requests that purchase, store and accounts sub-sections of the administration be made to realise a change in their work ethic would be required such that scientific staff can focus on research better.
Download
Citation:
Grievance letter on administrative process impeding scientific pursuit, MS-003_4_4_13_38_P_0013, Archives at NCBS
Rights : Digital material from the Archives at NCBS are made available online for non-commercial research purposes. Permission for reproduction or distribution must be obtained in writing from the Archives at NCBS (archives@ncbs.res.in). The Archives at NCBS makes no representation that it is the copyright owner in all of its collections. The user must obtain all necessary rights and clearances before use of material.