Letter from Ravi Sankaran to Canon USA
Format
Typewritten on paper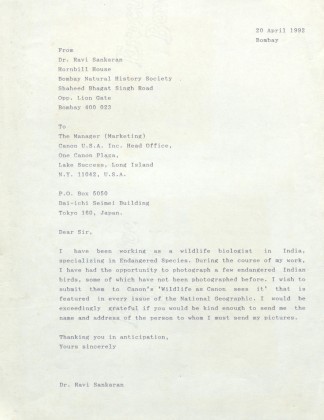 Letter from Ravi Sankaran to the Manager, Canon USA. Sankaran writes to submit his photos of endangered Indian birds to the National Geographic magazine section titled "Wildlife as Canon sees it. " He asks for the name and address of the person to whom he must send the pictures.
Download
Citation:
Letter from Ravi Sankaran to Canon USA, MS-004_1_3_3_8_P_0001, Archives at NCBS
Rights : Digital material from the Archives at NCBS are made available online for non-commercial research purposes. Permission for reproduction or distribution must be obtained in writing from the Archives at NCBS (archives@ncbs.res.in). The Archives at NCBS makes no representation that it is the copyright owner in all of its collections. The user must obtain all necessary rights and clearances before use of material.