No objection certificate signed by S. Ashok Rao regarding Veronica Rodrigues' visit to Netherlands for a seminar
Subject
Rodrigues, Veronica
Format
Typewritten on paper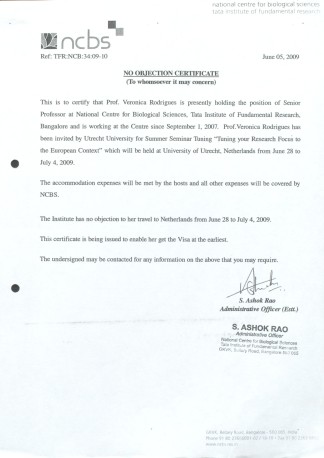 No objection certificate issued by S. Ashok Rao, Administrative Officer, NCBS regarding Veronica Rodrigues' application for a visa to enable her to attend a seminar at University of Utrecht, Netherlands called "Tuning your Research Focus to the European Context"
Download
Citation:
No objection certificate signed by S. Ashok Rao regarding Veronica Rodrigues' visit to Netherlands for a seminar, NI-001_1_2_1_5_P_0026, Archives at NCBS
Rights : Digital material from the Archives at NCBS are made available online for non-commercial research purposes. Permission for reproduction or distribution must be obtained in writing from the Archives at NCBS (archives@ncbs.res.in). The Archives at NCBS makes no representation that it is the copyright owner in all of its collections. The user must obtain all necessary rights and clearances before use of material.