Research on Wildlife Biology and Conservation by students of a masters course in NCBS
Author
Kumar, A; Krishnan, K.S.; Ramakrishnan, U
Subject
Wildlife programme
Format
Typewritten on paper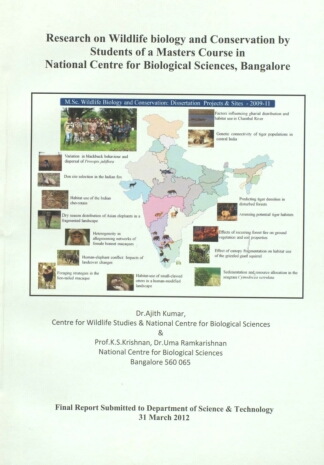 Final report to DST about the research activities at NCBS and CWS by the students of the masters course in wildlife biology and conservation over the period of 17-06-2009 to 31-03-2012. Introduces the various projects, the findings of the same and the publications which arose during the investigation of the same.
Download
Citation:
Research on Wildlife Biology and Conservation by students of a masters course in NCBS, MS-003_2_2_8_1_0005-0028, Archives at NCBS
Rights : Digital material from the Archives at NCBS are made available online for non-commercial research purposes. Permission for reproduction or distribution must be obtained in writing from the Archives at NCBS (archives@ncbs.res.in). The Archives at NCBS makes no representation that it is the copyright owner in all of its collections. The user must obtain all necessary rights and clearances before use of material.