16th meeting of the steering committee - Wildlife Programme
Subject
Wildlife programme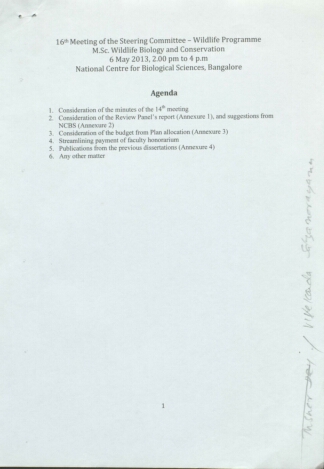 The agenda of the 16th meeting of the steering committee of the wildlife biology masters course at NCBS. The record covers the minutes of the 14th meeting, a review panel's report and suggestions about the same from NCBS. The review covers the scope and need of the programme, and areas of improvement such as lack of a clearly well defined mission statement, academic coursework, dedicated workspace for students and access to faculty for the students outside the classroom. Challenges arising due to these concerns and recommendations for the same are included.
Download
Citation:
16th meeting of the steering committee - Wildlife Programme, MS-003_2_2_8_1_0246-0262, Archives at NCBS
Rights : Digital material from the Archives at NCBS are made available online for non-commercial research purposes. Permission for reproduction or distribution must be obtained in writing from the Archives at NCBS (archives@ncbs.res.in). The Archives at NCBS makes no representation that it is the copyright owner in all of its collections. The user must obtain all necessary rights and clearances before use of material.